Bill, who has had a passion for lowriding since birth, grew up surrounded by cars due to his father's love for custom cars. As an adult, Bill has owned various custom cars, but his favorite is the 1993-1996 Cadillac Fleetwood Brougham due to its luxury, power, and sleek design. After taking a break from lowriding, Bill's father's desire to customize a car ignited his own passion, leading him to search for another Cadillac. He found a '96 Fleetwood for sale at the Pomona Swap Meet in California, which was already customized. However, Bill decided to take it to the next level and add more upgrades.
Bill personally did most of the work on the car himself, including adding more chrome, paint on the body and undercarriage, marbleized painted patterns, clearing the parking lights and taillights, and accessorizing the engine. The result is a show-quality, award-winning custom Cadillac that Bill is very proud of. Bill credits his father for his help and motivation, as well as his girlfriend for supporting him during the long hours he spent working on the car. Although he is content with his car as it is now, Bill is considering removing the vinyl top to add even more painted patterns. The 1996 Cadillac Fleetwood Brougham, nicknamed Sapphire, is a stunning vehicle owned by Bill Hayes from Pomona, California.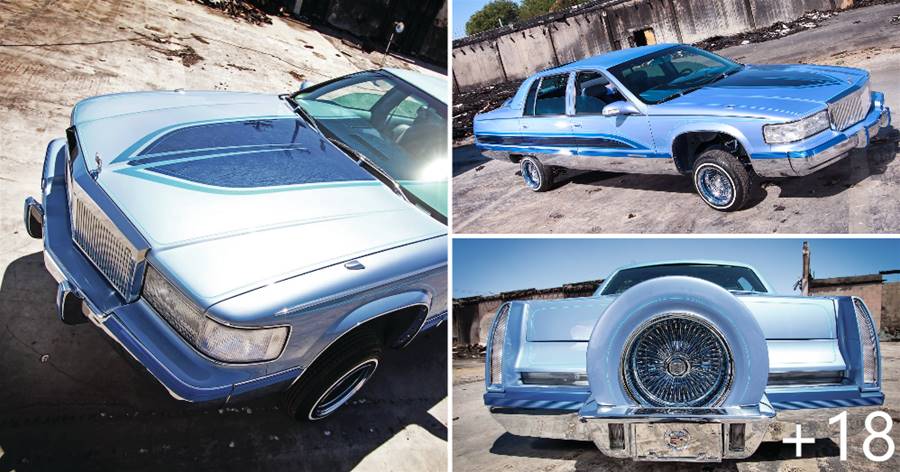 Mario from Mario's Autoworks in Montclair, California, painted the car in mesmerizing shades of blue with custom lines and marble patterns. Mike Tippits did the pinstriping, and Sal Elias created a detailed airbrushed mural on the trunk. The suspension of the car was customized by Anthony and Topo from Homies Hydraulics in Paramount, California. They installed a chrome hydraulic tank, six Optima batteries, and four dash-mounted switches.
The interior of the car, done by Manny's Upholstery in San Bernardino, California, features royal blue vinyl with light blue and royal blue suede inserts and patterns. The dashboard was fiberglassed, painted, and pinstriped. In terms of the car's sound system, it includes a Kenwood head unit, HiFonics amplifiers, Pioneer tweeters, and mid-range speakers. TV screens were also installed into the seat headrests for entertainment. The car is equipped with 13x7 chrome Daytons wheels and Travel Star whitewall tires. Overall, Bill's custom Cadillac Fleetwood Brougham is a true masterpiece that showcases his love for lowriding and attention to detail.