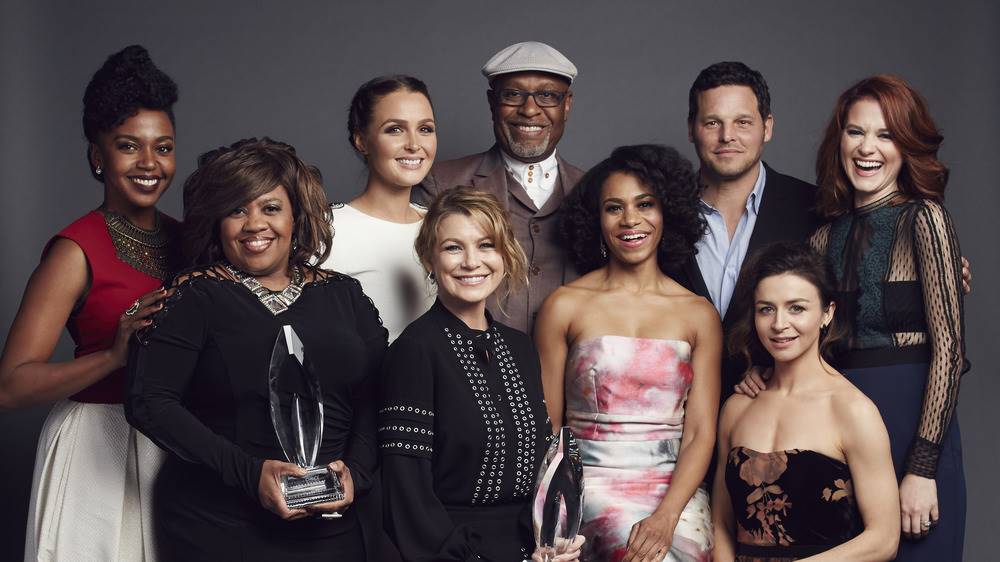 All is well with the world again: Grey's Anatomy is back. We don't know about you, but we're super ready for whatever this show has in store for us this season. Last night, Season 17 premiered with a two-hour special, which was especially emotional because it pays tribute to frontline healthcare workers and addresses the doctors' struggles to cope with the increasing and heart wrenching COVID deaths at the hospital (via Deadline). However, in classic Grey's Anatomy fashion, there was a jaw-dropping surprise in the episode's final moments. If you haven't watched last night's episode, beware of spoilers ahead!
In the episode, Ellen Pompeo's character, Meredith Grey, collapses in the parking lot of Grey Sloan Memorial. She finds herself in a dream sequence in which she is on a beach, hair blowing in the wind. Moments later, it happens. That's right: None other than McDreamy himself is on the beach with her.
Fans never thought they would see this face on Grey's Anatomy again
Fans absolutely couldn't believe their eyes. Patrick Dempsey's Derek Shepherd, a.k.a. the handsome McDreamy, was gracing their TV with his presence. This was especially shocking to see because in perhaps the entire series' largest plot twist, Shepherd tragically died in a horrible car accident way back in Season 11. So while the show couldn't really find a way to bring him back from the dead for real, a dream sequence made the most sense. And we're totally not mad about it. In the dream, he and Meredith embrace, which was a joy to see because the two had a really beautiful marriage for a lot of the series.
As you can imagine, Twitter was freaking out a little bit last night about this news. One Twitter user tweeted, "Oh. My. God. THE BEACH!!!! 😱 #GreysAnatomy." Another one said, "A whole hour and a half later since the episode ended and i haven't stopped thinking abt everything that just happened in greys ESPECIALLY THE ENDING" (via ET). Our sentiments exactly.
The cast was thrilled to be back together
As for the cast's thoughts on the big twist, well, they're just as excited as we are. Showrunner Krista Vernoff said the dream sequence was inspired by studies that show that our dreams during the pandemic are much more vivid and weird, due to a lack of mental stimulation. In an interview with Deadline, she explained, "I called Ellen, and I said, what if we bring back, I don't know, some dead character that you could dream of on the beach, that would be so fun for the fans." She added, "And [Ellen] said, let's get Patrick."
Dempsey couldn't be happier to have made an appearance on the show again. "It was great. It was really fun, very special. It felt really comfortable." Pompeo echoed those sentiments, saying that she and Dempsey simply love being around each other, and that the fans love seeing their characters together just as much. "Patrick and I have this chemistry," she explained, "where I think, even from when we first met, for some reason it just felt like we've known each other for a hundred years, and it's just the same feeling. It's like riding a bike" (via Deadline).