This story is about Sammy Lopez, who came across a 1954 Chevy Bel Air post while talking to his mailman friend. The car had been sitting in his friend's garage for 10 years and Sammy decided to take it off his hands. Upon inspection, Sammy realized that the car was already in good condition, with minimal rust due to being garaged for so long. Sammy's goal was to make the car even cleaner than it already was. He rebuilt the suspension and added a Kool Aid hydraulic setup with front and rear dumps, built-in equalizer, two pumps, and three batteries.
Discreetly routed switches were installed into the factory radio buttons. The ride now sits on restored 14x7 Truespokes and Premium Sportway 5.20s. The rearend was narrowed to accommodate the wheels and skirts. For the interior, Sammy sourced NOS fabric and other materials from Hampton Coach. The upholstery work was done by Blind Mike Perez. The only non-original addition to the interior is an Alpine Stereo and Kenwood amp. Factory accessories from eBay and swap meets, such as vent shades, rocker moldings, rear bumper guards, and spotlights, were added to enhance the car's original appearance.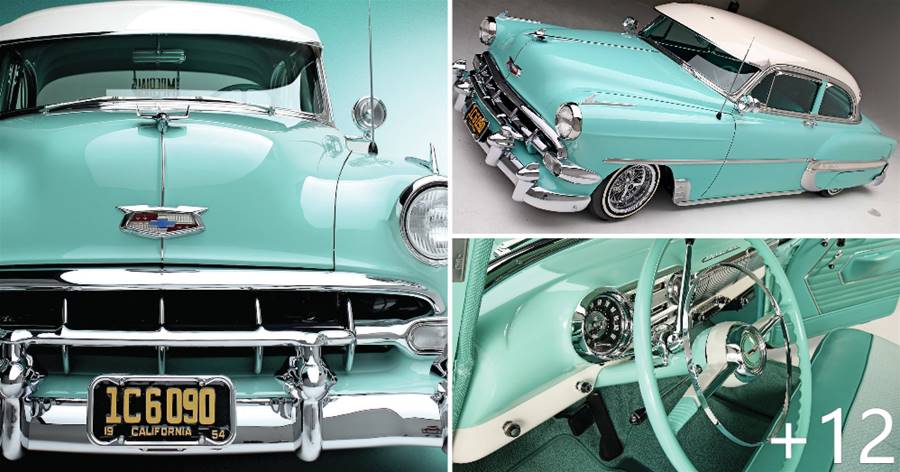 Henry Acencio did the accessory installation and also color sanded and buffed the car. Sammy opted for a custom aqua blend paint job instead of the original Pueblo Tan. The color inspired the car's name, Baby Blue Eyes. Eloy Soltero from Wilmington, California, did the painting. The car's immaculate finish adds to its appeal. The owner of the car, Sammy, believes in keeping things simple. Less is more with this car, as it follows the "k.i.s.s. principle" (keep it simple, stupid).
Sammy expresses his gratitude to Joe Guerra, Tutu in La Puente, "Mr. Imperial Materials" Jesse Valadez, and his longtime partner Emma for their contributions to the car. In terms of technical specifications, the car has a 235 inline-six engine with a Powerglide transmission. Henry Acencio installed the accessories and did color sanding and buffing. The car features a Kool Aid hydraulic setup, Hampton Coach interior, and an Alpine stereo with Kenwood amps. It rides on 14x7 Truespokes wheels and Premium Sportway 5.20s tires. Overall, this story highlights the journey of Sammy Lopez, who transformed a '54 Chevy Bel Air into a stunning and clean ride. The car's exterior, interior, and mechanical features were enhanced to create a classic and timeless vehicle.