Abel Abeyta is a long-time lowrider enthusiast who has owned many beautiful cars. His dream car has always been a '63 Impala, and he finally got the chance to make it a reality. After searching for a suitable candidate, Abel found a clean hardtop and quickly built it to be street-ready. However, he soon realized that he actually wanted a drop top instead. His friend and president of the Impala Car Club, Ken Montoya, understood his change of heart and helped him find another Impala that could be transformed. Abel had to sell his hardtop to gather the funds to build his true dream car.
He started by removing the frame from the body and had it wrapped to ensure that it wouldn't twist under hydraulic pressure. Ken's body shop, Top Auto Body, took care of the metalwork and painting. The car was given a magenta flake base color and covered with House of Kolor Brandy Wine. After being wet sanded and pinstriped, it was clear coated for a glossy finish. With the paint job complete, the car was ready for assembly. Abel had a new white leather interior installed, and later added an "Old School" Reds hydraulic system, which was showcased in the trunk.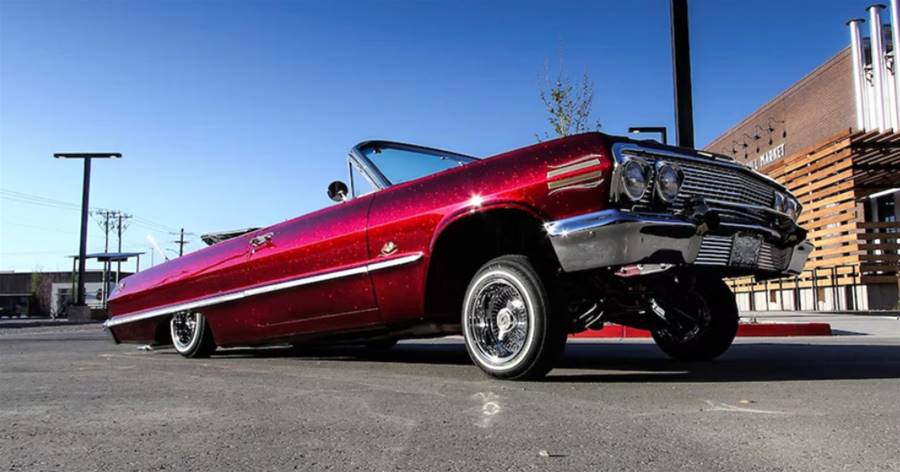 Finally, Abel's childhood dream came true, and he can now look at his '63 Impala convertible with pride. The car, nicknamed Mighty Fine Brandy Wine, belongs to Abel Abeyta from Albuquerque, New Mexico. It is a member of the Impalas Car Club. The engine is a 283 cubic inch, and the body is painted with a Kandy Brandywine color. Tan and pink pinstripes and murals adorn the skirts. The suspension features a fully wrapped frame and is equipped with two Old School Reds pumps and four batteries. The interior is made of leather, and the trunk has custom panels. The car is fitted with a complete Memphis Audio system and rides on 13x7 72 spoke Dayton wheels. Abel's journey to owning his dream car was a labor of love and dedication. He successfully transformed a clean hardtop into a stunning drop top '63 Impala that turns heads wherever it goes.