1. Don't let bad weather or condensation obstruct your vision. With this anti-fog treatment, you can hop into your car and see clearly right away without having to wait for the defroster to clear your windows. And the rain repellent for the outside of your windshield eliminates the need for windshield wipers in most situations, providing a clearer and enhanced view of the road regardless of whether you have wipers or not.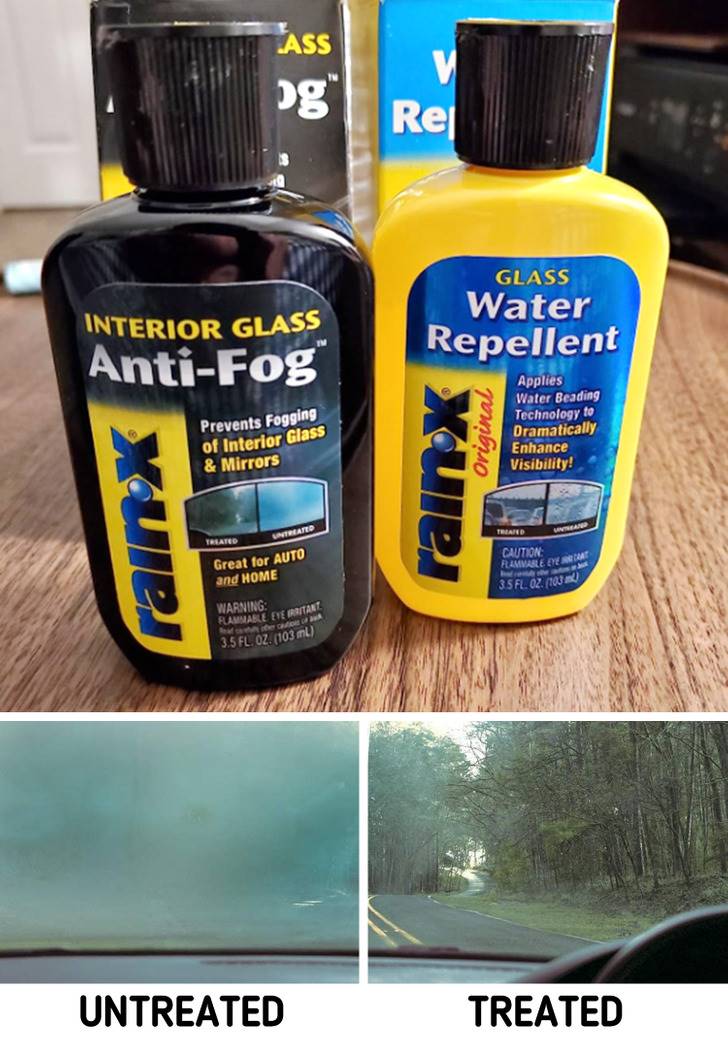 Promising review: These products, applied once, seem to do the trick.
My internal windshield isn't fogging up at all, and the external effect is that the water beads off when it rains, so all in all, it seems like I've done a great job.
I still use the wipers, but NOT as much.
The car has been hand-washed twice as well, so we will how long the effect lasts.
An interesting note as well is that, when it frosts, the application seems to have even repelled ice as well. Will see further when we get another low-temperature run-in. Great products, though!
2. We all know how frustrating it can be to unintentionally damage another car, especially when we have kids and frequently have to park in parking lots. With this car door edge protector, you can now enjoy peace of mind. It is designed to fit seamlessly onto your car door, providing a flexible and secure grip that hugs all the curves with ease.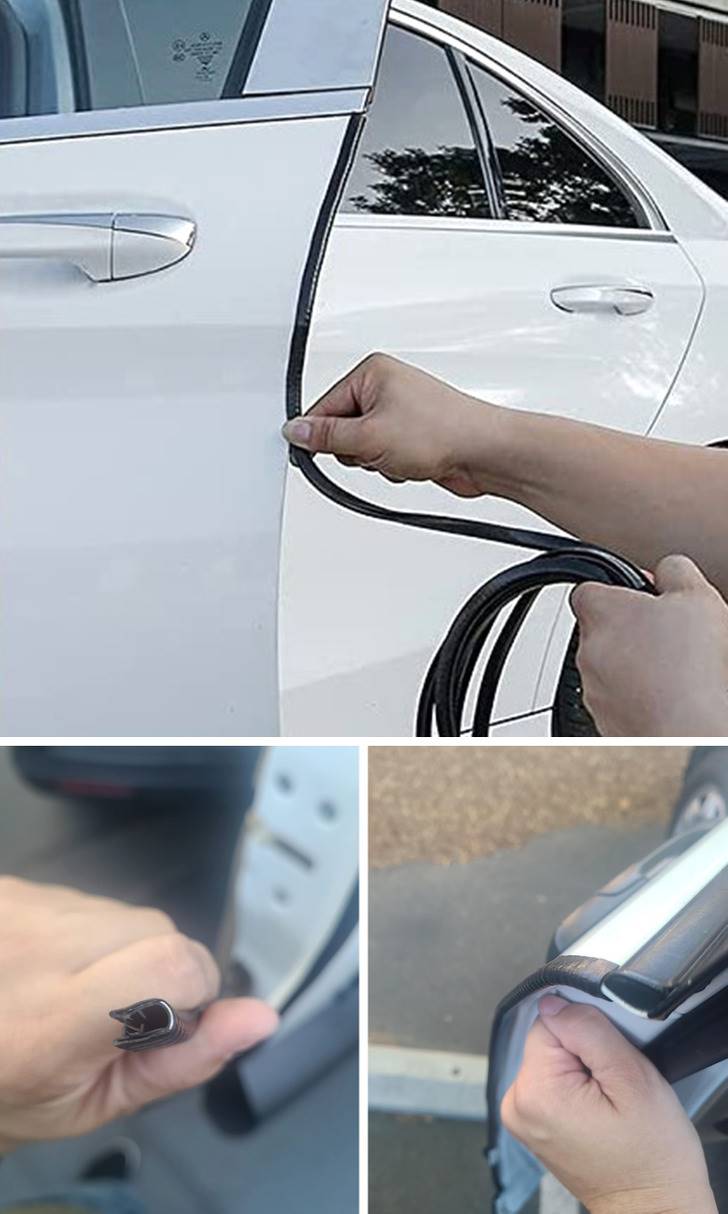 Promising review: Brilliant little thing, never knew it existed, but it's great! Not only does it protect my own car, it also protects the side of my car from accidents too! Everyone should have one of these installed :-P
3. If you've ever found yourself frantically searching for a tissue box while driving, only to realize it's not where you left it, then you'll appreciate the convenience of this car tissue holder. It is the perfect solution for those who struggle with limited space in their car's center console. The holder is also refillable, compact, and simple to install. With 2 clips on the back, it can be securely attached to either the car visor or the backseat.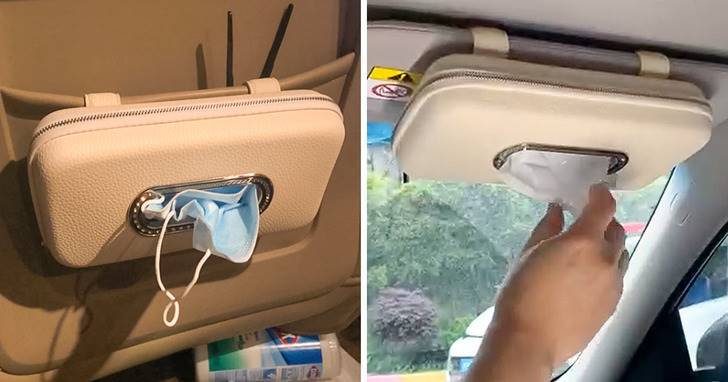 Promising review: I love this tissue holder. Easy to fill and zip close with about 1/2 box of my chosen type of tissues. I liked it so much that I bought 2 and compared it to another type.
The others were hard to close, and the zipper crushed the tissue corners in to close them, but not with this one. It's definitely worth it and looks nice in the car.
4. This cleaning gel is an incredible solution for those hard-to-reach places where crumbs and hair always seem to accumulate. This innovative product is perfect for cleaning car vents, keyboards, and other devices that are difficult to clean with traditional methods. And it's available in 3 different colors, each with its own unique scent.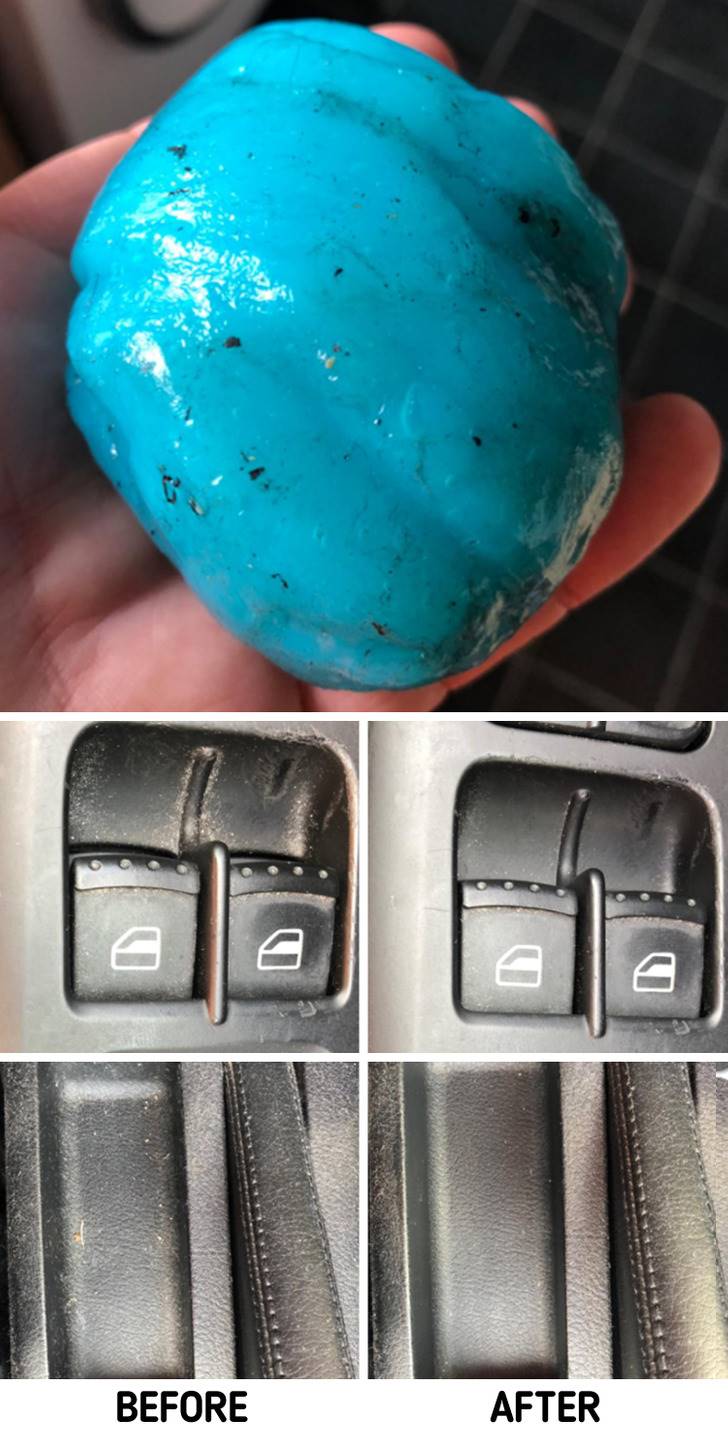 Promising review: This is such a simple but effective thing! All those nasty pockets of crumbs in the car you can never get clean will be a thing of the past with this stuff. Your kids will love it too — because it's gooey and makes delightful...uh..."wind" noises when squelching into corners.
5. This seat cushion is designed to support your legs and prevent your circulation from being cut off while sitting in your car seat. Crafted with memory foam, it is well-padded to provide maximum comfort and relief from pain that can occur during long drives. Its thick cushioning elevates your sitting position, which may require you to adjust your seat. However, the benefits of this cushion far outweigh any minor adjustments needed.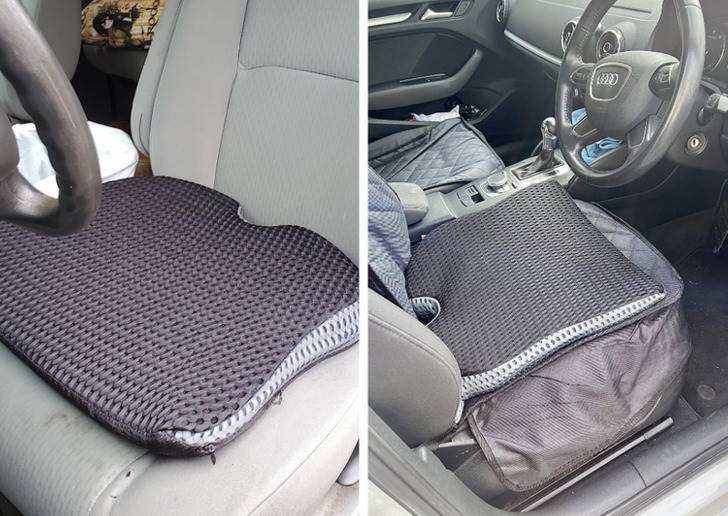 Promising review: I could hardly drive 2 miles before the pain in my lower back and hip area started. I was at the stage of almost selling my new car because of the seat discomfort.
I bought this cushion not expecting too much, but it has transformed my comfort and driving experience. I even drove a 300-mile round trip earlier this week and felt no discomfort at all. I can't recommend this support cushion enough. Fantastic value.
6. Give your vehicle the makeover it deserves with this black plastic restorer. Over time, a vehicle's exterior trim is bound to suffer from the harsh effects of sun exposure. Fortunately, with this product, you can restore the look of your car to its former glory without worrying about leaving behind a greasy residue.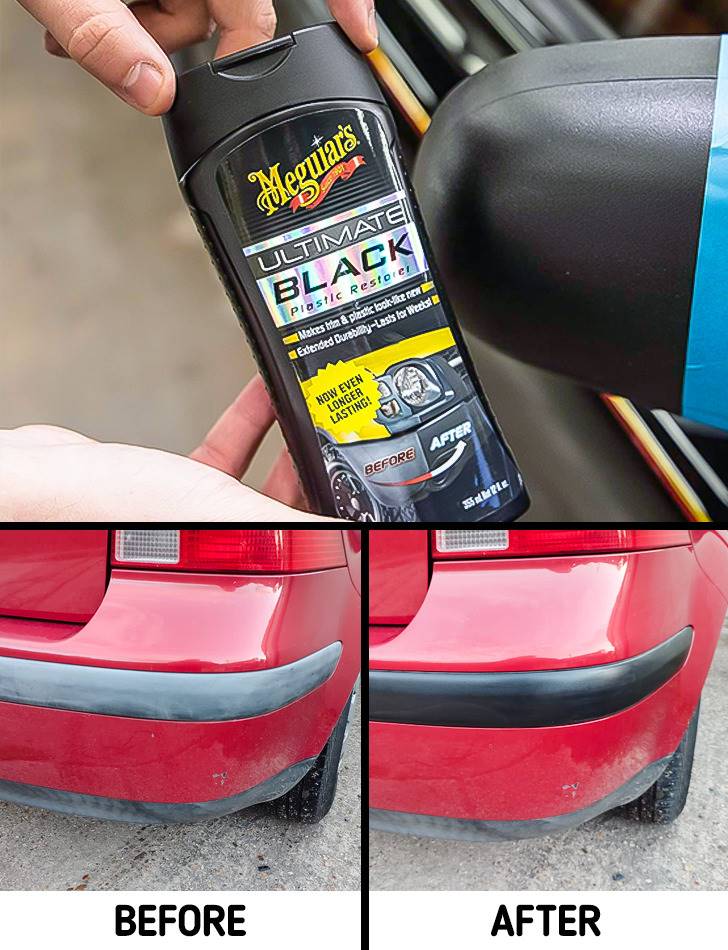 Promising review: My '05 Discovery was being let down by all the black trim, of which there's plenty, gradually bleaching gray in the sun. This wouldn't be so bad if the car wasn't black—gray. Black trim against any color doesn't look bad but grayed black on black is not a good combination.
A good swipe and rubdown with this stuff have transformed it. It looked vastly better after just several minutes, but several hours later, it was blatantly obvious where I'd missed, so I had to go back and do the job properly. Bumpers, mirrors, windscreen scuttle, side trim, wheel arches, trunk trim—they all look so much better now.
A good, large, soft, and clean cloth is essential. 
7. A handheld vacuum that won't break the bank! This device will make your life easier and eliminate the panic that comes with giving someone a lift in your car. Its powerful yet lightweight design effortlessly removes dust, dirt, and crumbs from your car's interior. Plus, you can conveniently charge it in your car between trips, ensuring it's always ready to go when you are.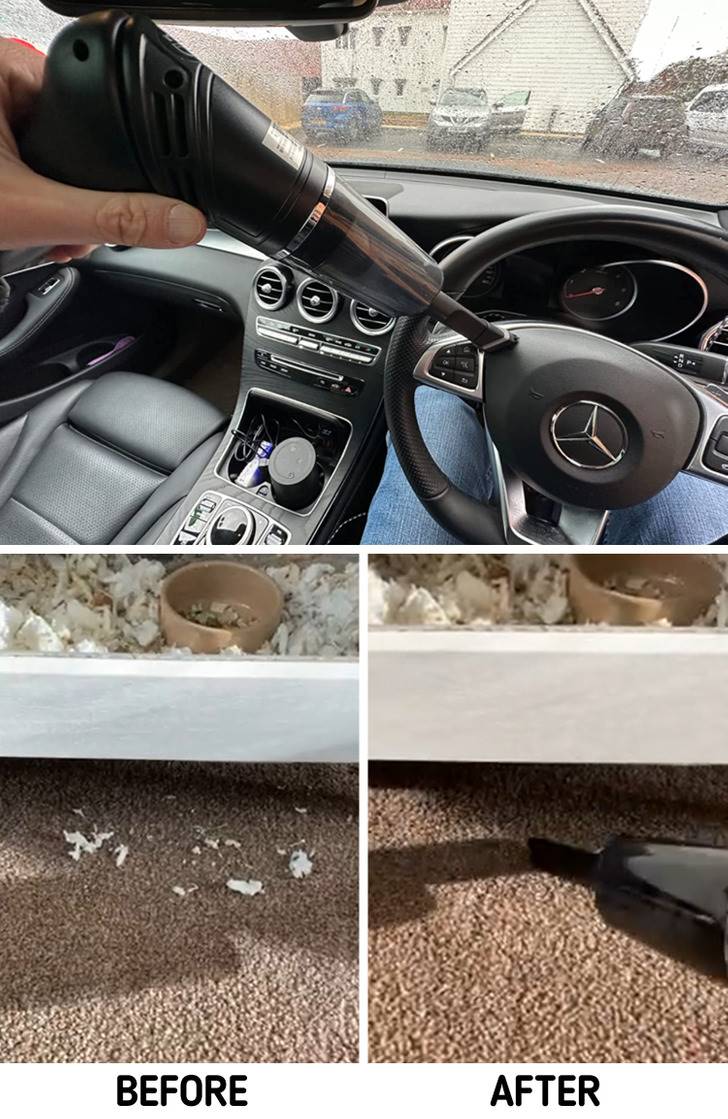 Promising review:I've had this for a couple months now, and it's absolutely brilliant. I have a golden retriever, and he sheds like crazy, though you do need some patience, this mighty little guy powers through and gets pretty much 80% of the hair up, and anything else that just gets dragged in, I'm just so impressed!!! Great purchase, and I would recommend it to anyone!
8. If you're an anxious driver, these blind spot mirrors are a game-changer. They provide a wider view behind and beside you, giving you peace of mind on the road. These mirrors are small and incredibly easy to install, making them the perfect solution for revealing those tricky blind spots that always seem to get us into trouble. With these mirrors, you'll never have to worry about changing lanes or merging onto the highway again.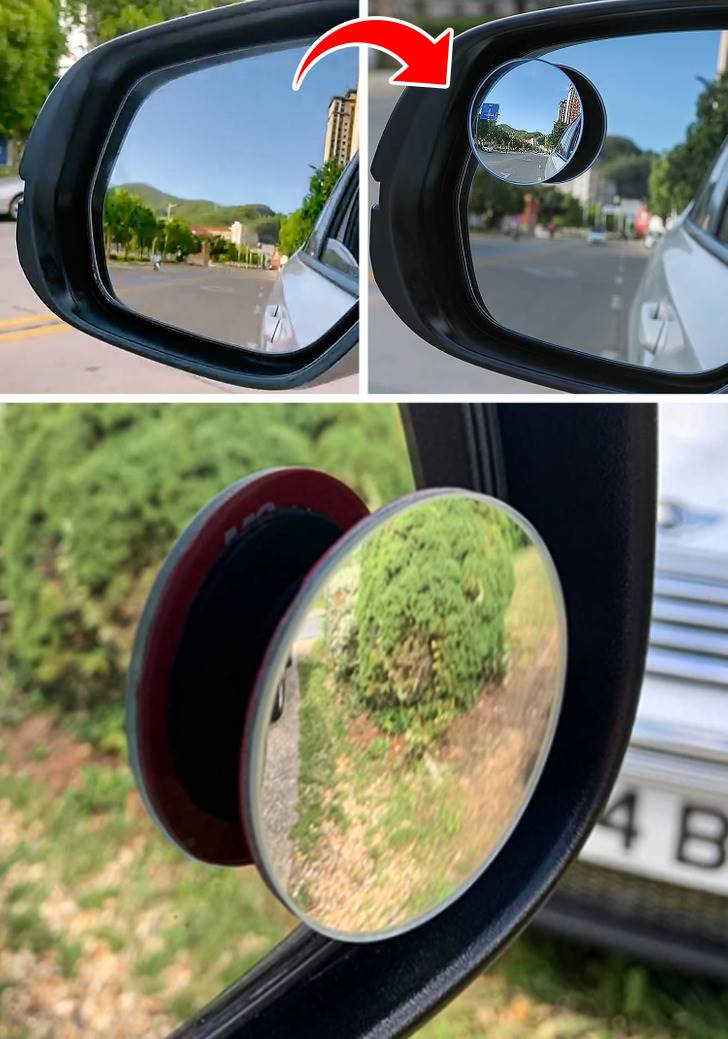 Promising review: I wasn't expecting much for the price, but these quickly became indispensable— I ended up using them more than the rest of the mirror! Easy enough to stick on, and when properly adjusted they completely eliminate blind spots at the sides.
I tried to remove them when I sold the car, but they were still stuck on tight after a year, so  I was happy to buy another set for the new car. Amazon is definitely hit-or-miss for car stuff, but this one's a gem.
9. If you're tired of passengers leaving trash in your car's footwell and door pockets, try out this compact garbage box. The inner cube is removable and can be easily washed if it becomes dirty, or you can use a grocery bag to line it. The box also features a flap that covers the garbage and a rubber entrance that prevents trash from spilling out if the box tips over.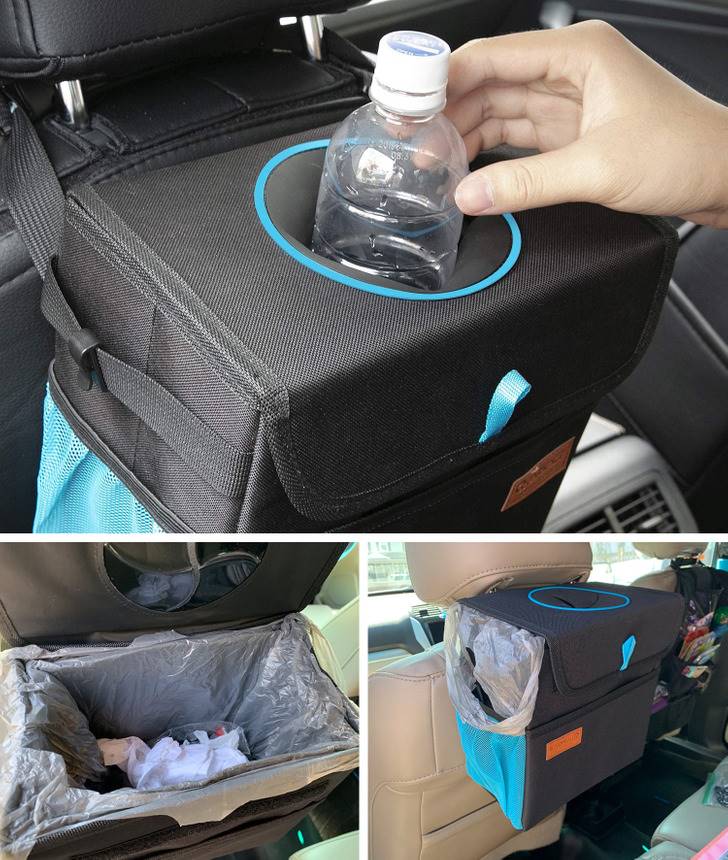 Promising review: Great buy. Now my kid's food wrappers have somewhere to go, and I don't have to check down the side of the passenger seat. Definitely recommend.
10. This car air freshener is not only effective but also adds a touch of whimsy to your driving experience. When your car vent is opened, the air outlet will drive the propeller, blowing the fragrance evenly to every corner of the car. The sturdy and reliable design ensures that it won't scratch your car's interior, and the magnetic top makes it easy to replace the essential oil fragrance tablets.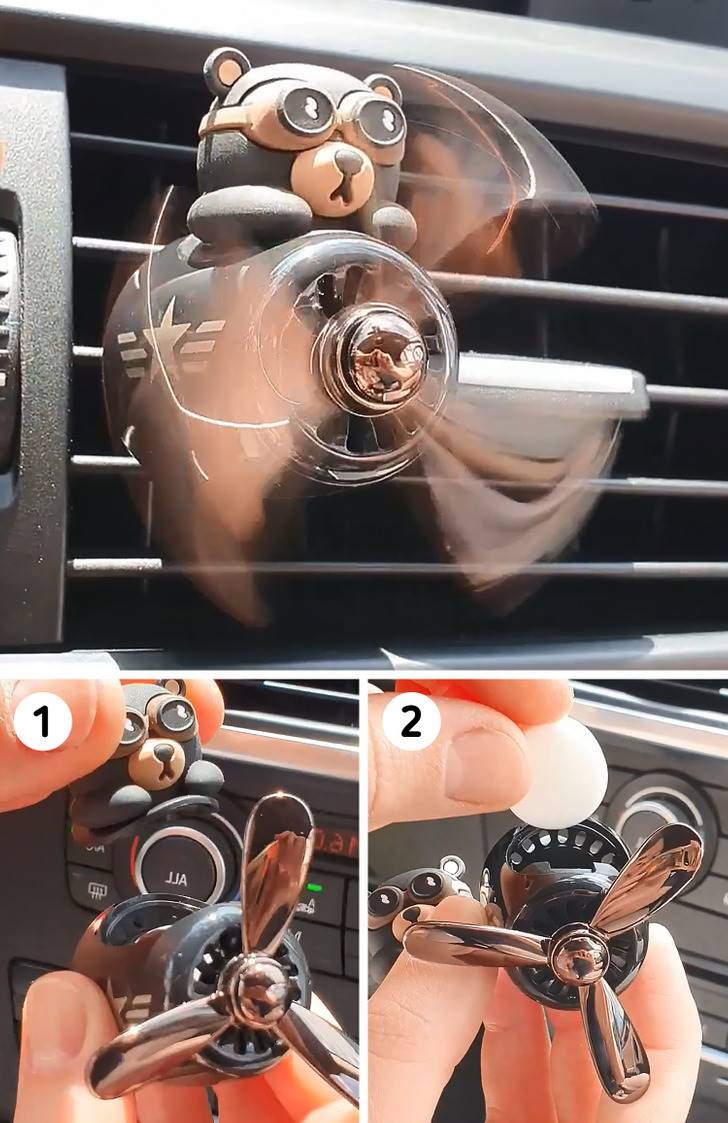 Promising review: My partner recently bought a new car, and I was given the task of finding an air freshener. Basically, it was left to me to get an air freshener for the vehicle (because isn't that the first thing we all do?). Anyhow, after a few minutes of browsing, I stumbled across this little treasure. Not only does it look fun, but it is also highly practical, working as a fan and as an air freshener. I purchased this and installed it in the car. (Clipped it onto the air vent).
Since then, I have gone on to purchase 2 more as friends and family absolutely love it. The design is simple but adds a lot of character to the inside of the car. It also comes with refills. Highly recommend.