From Mer and DeLuca to Nico and Schmitt: Grey's Anatomy couple update
Grey's Anatomy is heading back to our screens for a season unlike any other thanks to the ongoing coronavirus pandemic.
As the show takes storyline inspiration from the biggest medical crisis in modern history, fans can rest assured there will still be plenty of romance in season 17.
Season 16 ended abruptly with four episodes left to go, which meant some relationship timelines were left with a question mark in place.
So here's where things left off with the couple's on the show in season.
Meredith Grey and Andrew DeLuca
Split (for now)
Meredith (Ellen Pompeo) and DeLuca (Giacomo Gianniotti) aren't exactly together but the feelings are still pretty strong on Meredith's part.
DeLuca was in the middle of a mental health breakdown when the show was cut short so time will tell how it all plays out.
Alex Karev and Jo Wilson
Divorced
Alex (Justin Chambers) and Jo (Camilla Luddington) were happily married before he broke all our hearts and suddenly left.
He's now living a happy life with Izzie (Katherine Heigl) and their two children so hopefully there will be someone for Jo arriving in the new season.
Miranda Bailey and Ben Warren
Happily married
Ben (Jason George) might have moved to spinoff show Station 19, but he is still very much part of this Grey's couple.
The pair are still in love, have powered through some trying times, and recently adopted a teenage patient.
Amelia Shepard and Atticus Lincoln (Link)
Together (with a baby)
Amelia (Caterina Scorsone) and Link (Chris Carmack) went from a one-time hook up to the parents of a healthy baby.
We can't wait to see how things progress for these guys.
Owen Hunt and Teddy Altman
Engaged (maybe)
For reasons we can't ever understand, Teddy and Owen's relationship took the biggest crash dive ever.
After finally being happy together and becoming parents, Teddy cheated with Tom Koracick (Greg Germann) and the series ended with Owen finding out in a devastating voicemail.
The wedding was called off and we find it hard to believe Owen will be able to get over this.
Teddy Altman and Tom Koracick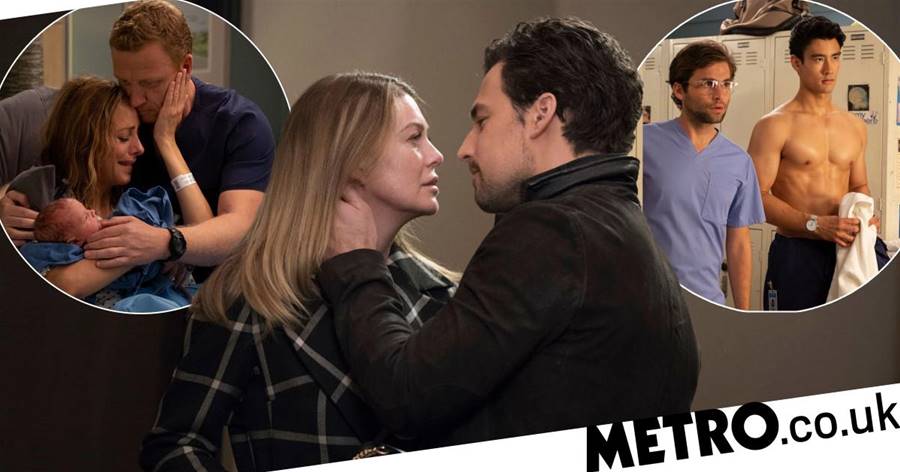 Sleeping together
We can all tell Tom's in love with Teddy, the guy literally begged her to run away with him on the day she was meant to marry Owen.
She turned him down but now Owen's aware of their secret affair so maybe Tom will get the girl after all.