Title: Vincent Leon's '59 Chevy Impala: A Red-Hot Vintage Beauty Vincent Leon's '59 Chevy Impala is a stunning vintage car that stands out even among other classic cars. The car, known as a red-hot ragtop, has attracted attention not only for its exceptional beauty but also for its unique features. Vincent, a resident of Richmond, California, has been a car enthusiast since the mid-1980s.
His love for lowriders was influenced by his father, who built his own Impalas and a '57 Chevy Bel Air. Vincent's expertise and experience in working on previous car projects allowed him to take his restoration skills to new heights with his '59 Impala. Purchased from a "good friend" for $4,200, Vincent invested an additional $40,000 and two years of his time to transform the car into a concours-quality show car. Despite being a full-time engineer, Vincent took on the majority of the work himself, including the impressive paint job. His friends at West Coast Chevy Classics in Richmond assisted with other customizations and restorations.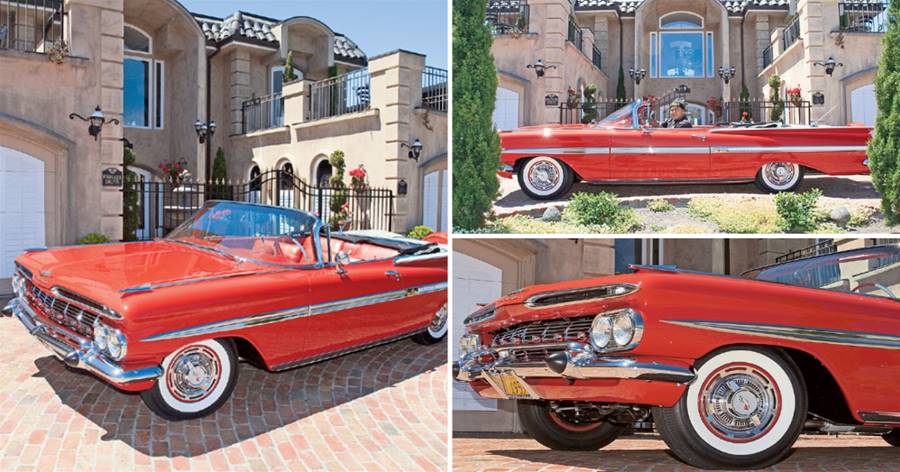 Vincent credits his crew, along with Carlos, Charlie, "Icelo," and his family, for their invaluable support in helping him achieve his desired outcome. The '59 Chevrolet Impala is widely considered one of the most beautiful models, and Vincent's red-hot convertible exemplifies its timeless allure. His attention to detail and meticulous restoration work have undoubtedly convinced any skeptics of the car's appeal. Looking to the future, Vincent's plan is simple: "Drive it 'til the wheels fall off." Vehicle Specs: - Engine/Drivetrain: The car features a stock 348-c.i.d. V-8 engine, which Vincent restored to its original beauty.
- Body/Paint: Vincent and the team at West Coast Chevy Classics smoothed out the classic sheet metal and added a newly designed Continental kit. The car is finished in the original Roman Red and Snowcrest White color scheme. The chrome plating was redone by Chevys Only in La Puente, California. - Interior: The original interior had endured wear and tear and color fading from the sun. Vincent and his crew installed a replica '59 Impala interior kit from CARS, Inc. The car also boasts power windows, power vents, power seats, and a power top. - Sound System: The '59 Impala is equipped with the original AM radio. - Suspension: The car retains its stock suspension with some restoration work by West Coast Chevy Classics.
- Tires: The car is fitted with four-ply BFGoodrich Silvertown wide whitewalls. - Wheels: The car retains its stock wheels with NOS hubcaps. Vincent Leon's '59 Chevy Impala is a testament to the timeless appeal of vintage cars and the dedication of car enthusiasts who strive to bring back their former glory. Every aspect of the car, from its striking exterior to its meticulously restored interior, showcases Vincent's passion for classic automobiles.