One-Owner 1957 Ford Thunderbird Is a Window to '50s and '60s Custom Car Culture!
Chuck George's 1957 Ford Thunderbird is a preserved window into the hot-rodding culture of the 1950s and 1960s. Chuck's father, Angelo George, bartered services to obtain the new T-bird for his son. Chuck initially desired the sleekest and fastest Ford available, which was an F-code Thunderbird. However, due to timing, he settled for a non-supercharged model. The T-bird marked a turning point for Chuck, as he took it on his honeymoon with his new bride, Jackie George. The car was eventually upgraded with the missing McCullough supercharger. Chuck's love for hot rods and drag racing influenced the family's involvement in the Southern California hot-rodding tradition.
The '57 T-bird underwent various cosmetic upgrades, including the addition of lead-based bodywork, 1958 Edsel station wagon taillights, knife-edged fenders, and modified hoodscoop. The car was initially painted candy apple red but later repainted a muted tan/gold due to issues with the candy apple paint. In 1970, the T-bird was stored as the George family focused on racing a Ford Pinto. However, Chuck's son, Jeff George, decided to bring the T-bird back into service in 2016.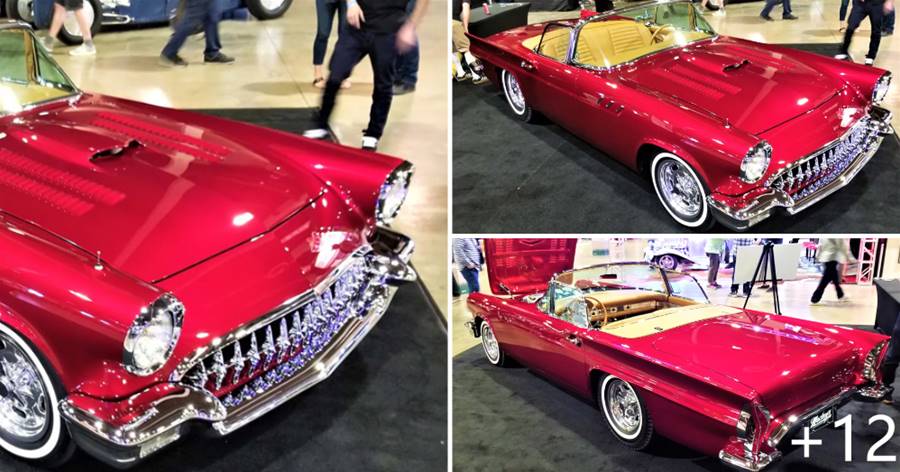 The car was entrusted to Brian Mackey of Mackey's Hot Rods, who saw the opportunity to celebrate SoCal hot rodding's role in the T-bird's history. Over the course of five years, Mackey's Hot Rods carefully restored the T-bird. The body was brought down to bare metal without altering the original leadwork, and the running gear was refurbished. The 427ci big-block Chevy was rebuilt with a larger cam and Hilborn fuel injection. The rearend is a Ford 9-inch, and the car sits on whitewall pie-crust cheater slicks mounted to Halibrand-style Igniter wheels.
The interior was recast in high-line leather, mimicking the original vinyl tuck-and-roll, and the car was painted in a rose gold and red Mazda hue. In 2022, the George family Thunderbird won First Place at the Grand National Roadster Show in the Semi-Sports Pre-1963 class, solidifying its place as a cherished piece of hot rod history. The car represents the George family's uninterrupted ties to the SoCal hot-rodding community for over 60 years, staying faithful to a single aesthetic throughout. It serves as a reminder of the determination and legacy of the George family in the hot-rodding world.