Birth of a Total Performance Icon: 427-Powered 1963 1/2 Ford Galaxie Lightweight!
The Ford Galaxie 500 Lightweight was a limited-production model introduced by Ford in 1963. It was designed to be a high-performance vehicle for drag racers and was based on the production Galaxie with a more aerodynamic roofline. This car was powered by a 427ci/425hp V-8 engine, equipped with an aluminum low-riser manifold and two Holley four-barrel carbs. It had immense torque and impressive performance. To make the Galaxie Lightweight more competitive, Ford made several modifications to reduce its weight.
Fiberglass components were used for the hood, front fenders, decklid, and inner fender liners. Aluminum front and rear bumpers, bumper brackets, and a lightweight frame were also installed. The car shed approximately 425 pounds compared to the regular Galaxie 500 XL hardtop. The interior of the Galaxie Lightweight was stripped down for maximum weight reduction. The car did not have an AM radio, one horn, clock, heater, defroster, or door panel armrests.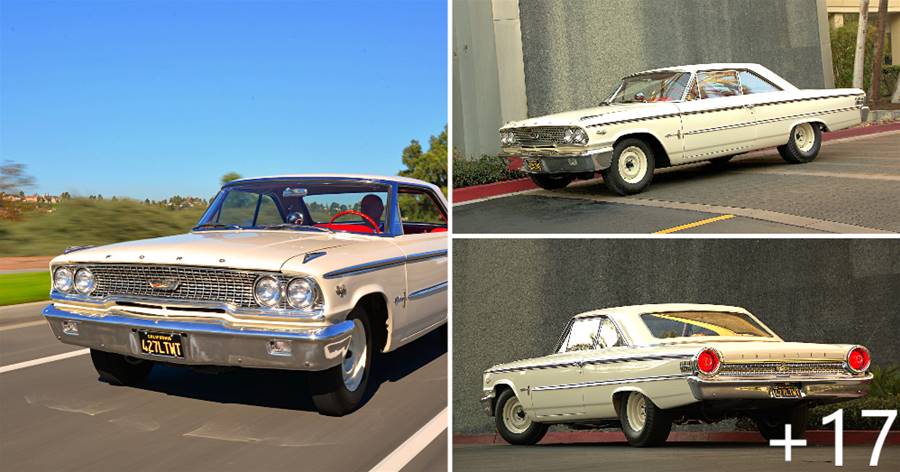 The front bench seat was replaced with lightweight bucket seats from Bostrom, and carpets were replaced with thin polyethylene flooring. Sound deadener and seam sealer were not installed. The Galaxie Lightweight had a distinctive Corinthian White exterior with a red interior. It had a unique appearance with its semi-fastback roofline and slanted backlight. The car had a powerful presence on the track and drew attention from enthusiasts and spectators. Only 200 Galaxie Lightweights were built, making them highly sought after by collectors. The price for one of these high-performance vehicles was $1,414.15 on top of the base price for a regular Galaxie 500 two-door hardtop.
The Galaxie Lightweight proved its performance capabilities on the track. In 1963, it achieved impressive quarter-mile times, with some cars running as fast as 12.07 seconds at 118 mph. Owner John Karelius, who has Ford and drag racing in his DNA, acquired a Galaxie Lightweight after regretting the sale of his previous one. He had the car meticulously restored by Jerry Kugel and his team at Kugel Komponents. Today, the Galaxie Lightweight is a prized possession for John, who continues to show the car at various events in Southern California. It shares garage space with other high-performance Ford vehicles, including an original 1964 Ford Fairlane Thunderbolt and a Contemporary Cobra 427 SC Roadster.